San Juan Capistrano, CA 92675
Courtesy of Escrow Leaders and Altos Research
Tue Feb 05 2019
This week the median list price for San Juan Capistrano, CA 92675 is $1,594,000 with the market action index hovering around 35. This is an increase over last month's market action index of 34. Inventory has held steady at or around 78. Click here to stay informed with the San Juan Capistrano market!

Market Action Index
The Market Action Index answers the question "How's the Market?" by measuring the current rate of sale versus the amount of the inventory. Index above 30 implies Seller's Market conditions. Below 30, conditions favor the buyer.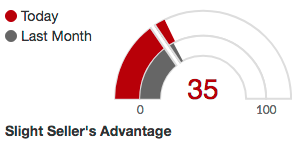 The market remains in a relative stasis in terms of sales to inventory and prices have been relatively stable for a few weeks. However, inventory is sufficiently low to keep us in the Seller's Market zone so watch changes in the MAI. If the market heats up, prices are likely to resume an upward climb.
MORTGAGE INTEREST RATES ARE STILL AT AN HISTORICAL LOW, AND NOW IS THE TIME TO SELL YOUR HOME DUE TO HIGH DEMAND, OR PURCHASE YOUR DREAM HOME...CALL MIKE BROWN LUXURY HOME BROKER FOR SOUTH ORANGE COUNTY AT 760.822.8734